- Thailand - Bangkok
Private Departure Transfer Hotel to Bangkok Airport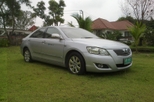 More Private Departure Transfer Hotel to Bangkok Airport Info
Transfers & Ground Transport
Why not plan your airport departure transfer from your Bangkok city hotel to Bangkok Suvarnabhumi International Airport now? Transfer services are available 24 hours a day, 7 days a week.Price range $29
Next Tour - Bangkok Small-Group Bike Tour - Get off the beaten track and explore Bangkok as you cycle through lane ways, past markets, traditional houses, canals and temples.

Discover idyllic pockets of Bangkok with an easy 20 km (12.5 miles) bike ride through this vibrant city. See some of Bangkok's most famous sights including the Bangkok Noi Canal, Memorial Bridge, Wat Suthat temple and Wat Arun temple, one of the most famous landmarks of Bangkok.

Meet the locals and get an insight into an area of Bangkok that few tourist know about on this adventurous Bangkok bike tour.
Previous Tour - Private Arrival Transfer Bangkok Airport to Hotel Tours List
Grand Hotel & Lucky 777 for International Players
or USA players @ Green Bay Casino with $7,777 Free Bonuses & Slots