- Australia - The Whitsundays & Hamilton Island
Whitsunday Islands Luxury Cruise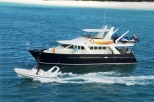 More Whitsunday Islands Luxury Cruise Info
Cruises, Sailing & Water Tours
Explore the Whitsunday Islands on the Great Barrier Reef aboard a luxury motor yacht! You?ll enjoy a highly personalized and private vacation experience, as the four cabins accommodate a maximum of eight people. You can choose to cruise the Whitsundays for either two or three days.Price range $1038
Next Tour - 2-Day Great Barrier Reef Reefsleep Experience - Imagine experiencing all the splendor of the Great Barrier Reef at night as you spend two-full days and one-night on the Great Barrier Reef. The brightness of the stars twinkling in the sky above, the moonlit crystal waters gently lapping against spectacular coral walls, and that unique feeling of peace and tranquility one can only experience when secluded on this natural wonder.

Enjoy all the facilities of the newly refurbished Reefworld over two full days and experience the peace and tranquility of the Great Barrier Reef at night. With exclusive time to explore the reef on your own and two SCUBA dives, you will experience many close encounters with schools of colorful reef fish and spectacular coral formations.

Encompassing two days and one night at the newly refurbished Reefworld, Reefsleep accommodates a maximum of six guests only and allows you to enjoy the solitude and tranquility of the Great Barrier Reef in a decidedly individual environment.
Previous Tour - Whitsunday Islands Great Barrier Reef Cruise to Knuckle Reef Pontoon Tours List
Grand Hotel & Lucky 777 for International Players
or USA players @ Green Bay Casino with $7,777 Free Bonuses & Slots